« Back to Learning Center
According to a study by FutureVault, the new norm of client expectations is here to stay. This new generation of consumers are expecting an enhanced client experience focused on relationships and true understanding.
This is especially true when it comes to mission-based financial planning.
Consolidated Planning was founded out of frustration with the financial planning industry and its failure to deliver real solutions in a meaningful way. With a planning philosophy that focuses on  clients first and products second, advisors empower their clients to take control of their narrative by working to maximize cash flow before anything else.
To better decide which firm is best for your career, you need to fully understand how you will be expected to conduct business at your chosen firm. In what follows we'll help you understand what a mission-based financial advisor is, and how being mission-based sets up the trajectory of your career to help you decide if a mission-based practice aligns with your values and objectives.
What Is A Mission-Based Financial Advisor?
A client experience that focuses on cultivating the client-advisor relationship and a deep understanding is part of what makes a mission-based financial advisor.
A mission-based financial advisor goes beyond the once-traditional role of solely providing financial advice and managing client investments. Yes, those aspects are still valuable today but today's client wants more and deserves more.
Mission-based advisors aim to integrate a sense of purpose and values into their practice. This might look like prioritizing and understanding clients' aspirations, beliefs, and values to better ensure that financial strategies align with broader life goals. 
Advisors at Consolidated Planning prioritize their client's true goals and aspirations through meaningful conversations. Not just surface-level questions.
By anchoring their practice in a meaningful mission, mission-based advisors empower clients to make financial decisions that are in alignment with their personal values. Through this alignment, both financial advisors and their clients can experience better outcomes.
What Does Mission-Based Financial Financial Advising Mean For The Trajectory Of Your Career?
Your desire for being a mission-based financial advisor sprouts from, first and foremost, helping people. 
If you don't want to truly help people, by prioritizing their financial wellness, above pushing products, then a financial advising career centered around being mission-based probably isn't for you. Your mission-based career will focus on delivering a consultative approach compared to transactional.
So, how does a mission-based career help you build your practice more efficiently?
YOUR REACH AT CONSOLIDATED PLANNING
Regardless of your experience level, the first-year expectation at Consolidated Planning is to align your goals and actions to help 125 families and/or businesses during your first 5 years. 
Becoming a processed-based planning advisor requires more time and care with each and every client rather than simply selling a product that you think they might need. 
The time spent with each and every client helps nourish and grow your practice by collecting not just quantitative data but qualitative data. Qualitative data is where deep relationships and understanding are found and what helps set you apart from the majority of advisors. 
A mission-based advisor benefits from this approach in a few ways.
MULTIPLE REVENUE STREAMS
When you are the one trusted advisor for your clients, you are able to have multiple revenue streams flowing to your practice. Most consumers don't want to spend countless hours finding and managing advisors for all their financial needs. They want a "one-stop-shop" if you will.
Coordinated and integrated advice and outcomes.
Being mission-based means you want to help your clients with the entirety of their financial wellness. These areas might include:
Savings and cash flow

Insurance

Wills & Trusts

Disability

Retirement
The planning philosophy at Consolidated Planning utilizes The Living Balance Sheet® which starts with assessing protection before anything else. We believe that before you can plan for tomorrow you need to understand where your client stands today.
REFERRAL BUSINESS
According to a study by Absolute Engagement, 58% of clients say they were motivated to refer their financial advisor to help a friend.
Think about your experience in this situation. If you were referring your dear friend to any service, it would be to a service you had a great experience with, right?
Right.
By being and demonstrating the behaviors of a mission-based advisor, clients perceive that you're genuine and authentic about making a positive impact on their financial well-being. This helps build trust and connection. This connection can lead to stronger relationships and increased client loyalty, which, in turn, can result in more high-quality referrals and introductions. 
Clients who have an incredible experience with their financial advisor want to shout it from the rooftop. Okay, maybe not the rooftop, but are at least more inclined to recommend them to friends and family who could also benefit from their services.
Meaningful conversations that seek to provide personalized solutions help shape the trajectory of your career exponentially. 
FULFILLMENT 
When you take care of your clients, you take care of yourself. Being a mission-based advisor has you doing just that. The result of taking care of your clients is a well-deserved income.
Fulfillment as a mission-based advisor comes not only from enjoying the work you're doing but also might look like:
Making a positive impact

Building meaningful relationships

Seeing clients reach their goals

Alignment of your personal and professionals goals
Becoming the advisor you've always wanted to be might mean a mission-based career is right for you. The good news is, we've learned it is possible to build a healthy and thriving practice that's mission-based.
CONSOLIDATED PLANNING'S REACH
By building a sustainable mission-based practice with Consolidated Planning, we are able to extend our reach. The reach to more like-minded financial advisors and people who can benefit from our help.
Finding the right advisors makes it possible to fulfill our mission of helping families and/or businesses throughout the Southeast. Mission-based advisors that are capable of helping these people. As you work towards accomplishing your goals, we continue to accomplish our goals.
THE FLYWHEEL FOR GROWTH
As financial advisors are improving, learning, holding themselves accountable, and getting better, the pipeline of advisor candidates replenishes, further propelling our flywheel around.
By building the best in class financial advisors through our commitment to the flywheel concept, we are able to attract those with the belief around our planning philosophy to help 125 families or businesses over your first 5 years of practice building with us. The by-product of these 125 clients is potentially 250k of revenue by your 5th year.
Building your practice will be done by putting people and strategy before products. Attracting believers for our consultative planning approach helps us build strength as a company, demonstrate results, and continue building upon those strengths.
Alignment on values, planning philosophies, goals, and expectations with a firm will prove to be the right place to start when selecting the right firm for you and your career.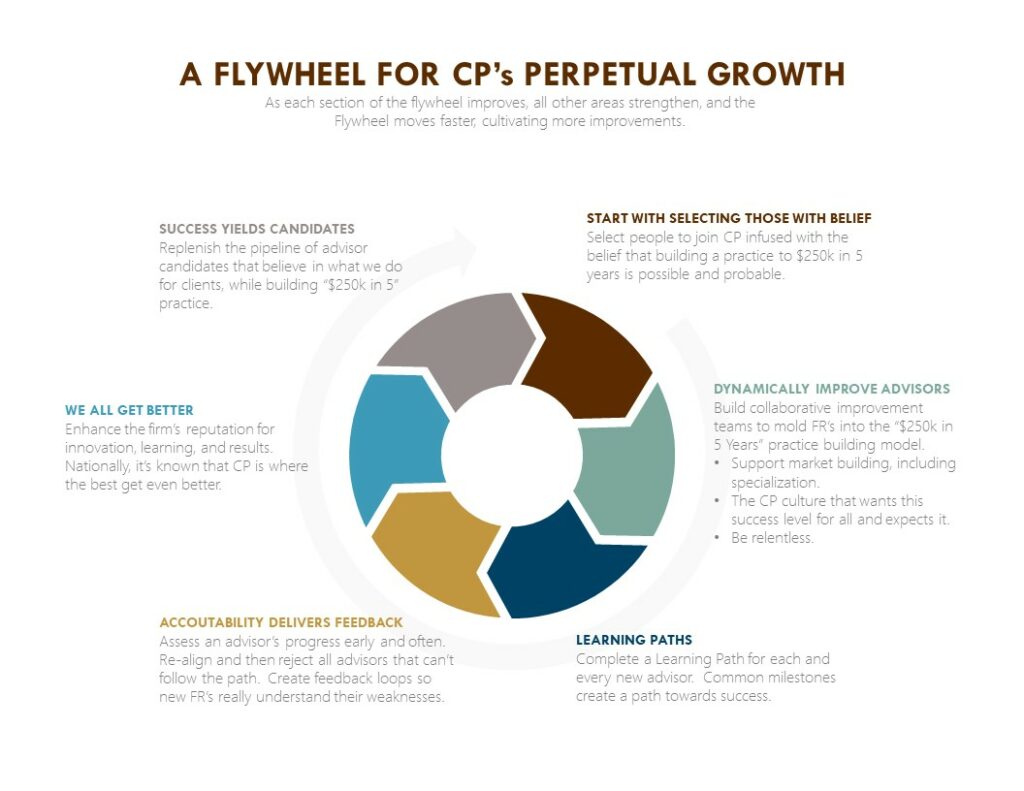 Is Mission-Based Financial Advising Right For Your Career?
Building your practice as a mission-based financial advisor is made up of so much more than just selling products. Any financial advisor can just sell a product. 
A mission-based career requires the desire and dedication to be more and do more for your clients, putting the best interest of your clients above all else. All else. And this goes beyond just your fiduciary duty to do so.
If you're unsure if a mission-based career is for you, ask yourself these questions:
Is your why centered around helping people?

Do you want to build meaningful relationships?

Do you want to empower your clients?

Are you willing to spend the necessary time giving clients reassurance and peace of mind?
If you're feeling unfulfilled in your career path but are concerned about what your compensation will look like, talk with a recruiter to learn how you can build a successful and rewarding practice at Consolidated Planning.
2023-156057 Exp. 5/2025